Welcome to Amity University
Amity University is one of the prominent private universities of India. This educational group imparts education to about 80,000 students at a given point of time. The campuses of Amity University are sprawled across 1000 acres. The university stresses a lot on making students aware about basic moral values and sanskars. Students learn leadership skills here and then apply them in their professional life. This university is consistently being ranked number one. According to a survey conducted by Business Today, the university has been ranked 7th among all business schools as per the corporate world. Students from all over India come to this esteemed center of education for attaining knowledge matching global standards. The University has committed to offer excellent education to its students thereby offering them a wonderful opportunity to excel in their chosen field. A variety of conferences and workshops are organized by the university for the benefit of their students. The faculties offering their services are well qualified.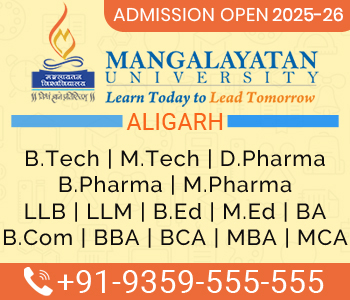 A wide variety of graduate, postgraduate, research, Ph D, certificate and diploma level courses are offered by the university. For example, some of the undergraduate degree courses offered by the Amity University are Bachelor of Technology in Bioinformatics, Biotechnology, B.Ed, and many more such programs. Similarly Post Graduate courses offered by the Amity University are Communication, English, Economics, French, Hindi, Historical Studies, Indian Philosophy, Political Science, Public Affairs, Public Management, Sanskrit, Sociology, Master of Business Administration (MBA), Master of Computer Applications (MCA), International Business, Trade and Services, Master of Education (MEd) - General, and many more.
A wide variety of distance education courses are offered by Amity University in different disciplines. Amity University has a Amity School of Distance Learning, ASoDL. Some of the courses offered by distance education are Master of Business Administration, MBA For Chartered Accountant, Master of Computer Application (MCA), Bachelor of Business Administration, Business Management, Financial Management, Materials Management, Human Resource Management, Production & Operations Management, Marketing Management, Export Management, Information Technology, Insurance Management, Journalism and Mass Communication Management, Tourism Management and many more. The syllabuses of all courses are available online.
Amity University offers admission forms online and they can be obtained in person as well. Prospectus are available in the office and they contain all information regarding the courses, eligibility criteria, date of submission, documents needed, date of entrance exams, date of results announcements, fee structure, etc.

Amity University Campus and Location
A private university, Amity University is located in Noida, India. It was established under a state government act of Uttar Pradesh. Amity University has five campuses in Lucknow, Noida, Gurgaon, Jaipur and Gwalior. Under the name of "Amity Global Business Schools", Amity University brands its varsities. Many of them are located in Chandigarh, Ahmedabad, Chennai, Bangalore, Mumbai, Bhubaneswar, Hyderabad, Patna, Pune, Indore, Kochi and Kolkatta. In London and Singapore as well the University has opened its campuses. Outstation students are offered wonderful hostel facilities to students with a wide range of basic amenities. The university itself offers world class opportunity for the students to gain education.