Sharda University, Greater Noida
Magnificent Sharda University is one of the ace and most renowned private universities in India, adorned with high reputation worldwide. Well-established in Greater Noida in 2009, this sharda university has carved its own respectable niche in the higher education sector of India, and cherishes to set new benchmarks in the Indian education system. Duly recognized under the section 2(f) and section 22 of the UGC Act of 1956, this sharda university greater noida has all necessary and affluent resources, infrastructure, and facilities to achieve its grand goals in near future. This steadily booming sharda university belongs to the highly prestigious Sharda Group of Institutions (SGI) which was established in the year 1996, with a rather broad vision and noble aims.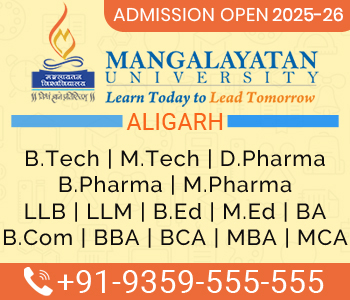 Established over 63 acres, this a leading university in northern India is well-equipped with impeccable academic infrastructure, highly erudite and dedicated teaching faculties (including international faculties), employment-friendly and innovative courses (over 200), world-class teaching and research standards, and global outlook, to attain and retain new glorious heights in the world of higher education. Its superb courses and programs are available at all varying academic levels ranging from undergraduate to doctoral research levels, and in a rather wide and comprehensive range of professional disciplines. It has bolstered innovative and promising academic collaborations with over 130 Indian and foreign universities and institutions (the majority being located in USA, Canada, UK, Australia, China, and Africa). Students, professionals, and research scholars from over 80 countries worldwide, embellish its celestial campus. And, for proper and superior training and placement of its candidates, this visionary sharda university has made rapport with over 350 Indian and multinational companies.
From time to time this perennially prospering Sharda University has been highly appreciated in connection with the following matters --- its ranking among the top 25 Indian universities, its outstanding placements, its recognition among superb business schools in India (rated 'A' by CRISIL), as the best private university in UP and Delhi NCR, Asia's most promising brand in education, excellence in engineering and management education, excellent university for medical and dental education, most popular university among international students in India, etc. Sharda University teaches around 20,000 students and scholars at all academic levels, and has a huge alumni base of around 45,000.
Programs & Courses Offered by Sharda University - Admission Open 2020
The top-notch, employment-friendly, and rather professional programs and courses offered by sharda university have been duly approved by the relevant regulatory bodies (mentioned under the section just below) and cover almost all most popular disciplines/fields. Over 200 distinct courses and programs are conducted by the university in the disciplines/subjects mentioned below. Broadly, these programs and courses of sharda university may be classified under the following categories --- Undergraduate Courses; Certificate and Diploma Programs; Postgraduate Courses; Integrated Courses; and Doctoral Research Courses. Around 1200 erudite, well-experienced, and innovative teaching faculties impart teaching and training to students and scholars at the following major academic schools (every school has multiple departments) of the affluent Sharda University
School of Engineering and Technology (SET)
School of Business Studies (SBS)
School of Architecture & Planning (SAP)
School of Creative Arts, Design & Media Studies
School of Law (SOL)
School of Humanities & Social Sciences (SHSS)
School of Dental Sciences (SDS)
School of Allied Health Sciences (SAHS)
School of Medical Sciences & Research (SMSR)
School of Basic Sciences & Research
School of Nursing Sciences & Research (SNSR)
School of Pharmacy (SOP)
School of Education (SOE)
Well-founded gracefully over 63 acres, Sharda University of Greater Noida has a rather modern, affluent, and world-class academic infrastructure, boosted by lavish on-campus facilities. The most important among these all academic and campus amenities and facilities are the following --- modern Classrooms equipped with diverse audio-visual aids (LCD Projector, OHP, etc.); Wi-Fi Campus; well-stocked Libraries; Laboratories with latest technologies; well-maintained Sports Courts; separate majestic Hostels for Boys and Girls; Canteen & Cafeterias; Computer Labs; Seminar and Conference Halls; Transportation facility; Medical/Healthcare facilities; Auditorium; Training & Placement Cell; Banking & Postal services; Workshops; e-Learning Rooms; Multimedia Studios; Art & Culture Center; Career Counselling Cell; and Entrepreneurship promotion center.
At Sharda University, the B.Tech. courses are available in the following engineering disciplines --- Computer Science & Engineering (CSE), Electronics & Communication Engineering (ECE), Electrical and Electronics Engineering (EEE), Mechanical Engineering (ME), Genetic Science & Engineering, Biotechnology, and Civil Engineering (CE). While its MBA courses are available in the following specializations --- Business Analytics, Marketing, International Business (IB), Human Resources Management (HRM), Banking & Finance, Supply Chain Management, and Healthcare & Hospital Administration.
Visionary and philanthropic Sharda University does have well-formulated provisions and policies for the Scholarships and Financial Assistance to the meritorious and needy students, based on a variety of criteria. Sharda University believes that money should not be a road block for a student with innovative ideas in his mind and passion in his heart. In the sector of doctoral research also, this well-resourced university is quite jubilant and hence, internationally popular. At present, this sharda university nurtures doctoral research courses in as many as twenty two professional disciplines. Again, besides organizing workshops and conferences regularly at the national and international levels, this magnificent university also publishes two research journals of national and international importance, which are - the Journal of Scientific and Technical Research (JSTR), and the International Journal of Management Issues and Research (IJMIR).
Recognitions/ Approvals/ Memberships/ Certificates/ Placements
Well-founded, regularly updated, and internationally famous Sharda University of Greater Noida holds approvals from/academic collaborations with/industrial liaisons with, the following regulatory bodies/ institutions or universities/companies:
Apart from the UP State Government, Sharda University is duly recognized under the section 2(f) and section 22 of the UGC Act of 1956.
The Bar Council of India (BCI)
The Medical Council of India (MCI)
The National Council for Teacher Education (NCTE)
The Dental Council of India (DCI)
The Pharmacy Council of India (PCI)
The Indian Nursing Council (INC)
The Council of Architecture (COA)
The International Accreditation Organization (IAO)
Membership to the Association of Commonwealth Universities (ACU)
Again, highly prestigious and internationally renowned Sharda University has bolstered promising academic tie-ups with over 130 Indian and foreign universities and institutions. The following are some the famous foreign universities/institutes which have been associated with this full-fledged sharda university
Harvard Business School, USA
Royal Melbourne Institute of Technology (RMIT), Australia
Curtin University of Technology, Australia
Sacred Heart University, USA
Missouri State University, USA
University of the West of England (UWE), UK
King's University College (University of Western Ontario), Canada
Sejong University, South Korea
CARDIFF Metropolitan University, UK
ADA University, Azerbaijan
Ural Federal University, Russia
Gannan Medical University, China
American College of Greece, Greece
National Polytechnic Institute of Mexico, Mexico
As far as the placements are concerned, well-connected sharda university has training/placement rapport with around 350 Indian and foreign companies out of which more than 150 are multinational companies, and about 30 are Fortune 500 companies. Some of these recruiter companies associated with Sharda University are the following ---- HCL, Wipro, ITC, L&T, Apollo, Citibank, ZEE TV, Vodafone, Tech Mahindra, SYNTEL, Cognizant, Videocon, ALSTOM, Amar Ujala, Amazon, ARICENT, Edelweiss, Genpact, ICICI Bank, HDFC Bank, Adani Wilmar, MTS, Asian Paints, American Express, OYO, D&B, Indiabulls, Pepsi, etc.

Contact Details of Sharda University, Greater Noida
Interested, meritorious, or ambitious students and professionals may readily contact the university for getting detailed information about this Sharda University of Greater Noida, its various ace-quality and employment-oriented courses, or about the current admission open in sharda university, just through using any of the following means/links
Campus Address:
Sharda University, Greater Noida
Plot No. 32-34, Knowledge Park III, Greater Noida, Uttar Pradesh - 201310
Website: www(Dot)sharda(Dot)ac(Dot)in