Sharda University Admission Open 2021-22
"Explore worldwide recognition and academic achievements through Sharda University!"
Sharda University is a top-ranking and reputable private university in Greater Noida, Uttar Pradesh, India, globally known for its prestige and gratitude. This university was founded in 2009 and attained acknowledgment under section 2(f) and section 22 of the UGC Act of 1956.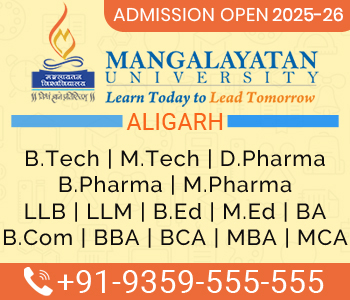 This leading university is associated with the Sharda Group of Institutions (SGI), an organization founded in the late 1990s with a worthy goal and virtuous objectives.The magnificent ShardaUniversity is greatly appreciated for offering excellent facilities and successes to its students through prominent teaching standards with a worldwide focus on academia. A broad range of courses and programs are provided by Sharda University across such a diverse spectrum of subject areas.
A significant research partnership has also been made by the university; with over 130 colleges and academic organizations globally in conjunction with UK, USA, China, Australia, and Africa. The university has more than 13,000 students from 85 nations, 29 provinces and union territories rendering it a genuinely multicultural academic organization. Overall, Sharda University represents about 20,000 students and academics at all disciplinary levels and has an extensive alumni network of over 47,500.
Sharda University Admission Open: 2020-2021
The gateway to 216 programs offered by this university is concerned with Sharda University Admission Test (SUAT), which is a nationwide standardized examination; projected to help students seeking admission in diverse courses at Sharda University.
In other words, it is offering admissions and entrance based on oral and written examinations as well as by grades in national level examinations. Candidates who qualify the required qualification examination isgranted admissions in the undergraduate and postgraduate courses. To fulfill the above-mentioned eligibility criteria is mandated for all the applicants.
Courses Offered by Sharda University
This university has a history of excellence in imparting quality education and academic successes. However, more than 216 programs and courses are offered by different departments at Sharda University including health science, biotechnology, basic sciences, hospital administration, mass communication, and more.
The duration of such programs and courses is a minimum of 3 months and a maximum of 4-5 years.
Integrated and short-term programs are also provided by the university.
The numbers of highly qualified teaching faculties at various disciplines are promoted throughout approved educational institutions for higher learning associated with prosperous Sharda University.
The university is highly esteemed for granting the globally recognized degrees accredited by the University Grants Commission (UGC).

Thereby, if you want to enjoy limitless opportunities and worldwide recognition with fully-funded tuition programs, then enroll yourself now for Sharda University Courses.
Sharda University Campus Address:
Sharda University, Greater Noida
Plot No. 32-34, Knowledge Park III, Greater Noida, Uttar Pradesh - 201310
Website: www(Dot)sharda(Dot)ac(Dot)in