PhD in Computer Science and Engineering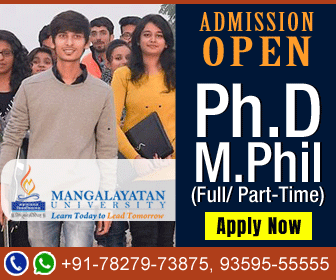 Ph.D. in Computer Science and Engineering (CSE) is one of the hugely popular doctoral programs in India and abroad at present. This phd in computer science and engineering opens doors to many high-level positions in this discipline, which offer much more creative freedom, salary packages, along with due responsibilities than those available to professionals with less education. After completing a PhD in CSE, a professional is highly eligible for working in the sectors of academia, scientific research institutes, government agencies, private and public undertakings, and media.
This carefully and benevolently prepared webpage offers precious and very useful information about full time and part time phd in computer science in some famous Indian universities, including the admission procedure, eligibility conditions for phd admission in computer science and engineering subject, and the careers attainable after completion of this affluent doctoral course.
PhD Admission 2021 in Computer Science (Full Time/ Part Time)
The phd admission procedure to both the full-time and part-time programs in India, involves a research entrance test and then an interview/viva voce. These both research entrance exam for phd in cs and the interview are now conducted by the selected university strictly as per the provisions and regulations stipulated in the new UGC (Minimum Standards and Procedure for Award of Ph.D./M.Phil. Degrees) (1st Amendment) Regulations, 2018. Other relevant pieces of information related with the full-time and part-time phd admission 2021 are provided separately under the section just below.
At present, the following are some very renowned indian universities offering phd in computer science through the full-time or/and part-time modes:
AJK College of Arts and Science, Coimbatore
Mangalayatan University, Aligarh
Allahabad University, Allahabad
Amrita Vishwa Vidyapeetham, Coimbatore
BITS Pilani, Pilani
Lovely Professional University (LPU), Jalandhar
Assam University, Silchar
BBDU, Lucknow
Bharati Vidyapeeth, Pune
Bhavnagar University, Bhavnagar
Eligibility/Qualification/Syllabus/Sample Papers for PhD in Computer Science and Engineering
Lasting for 3-5 years in general, this highest-level academic course in Computer Science & Engineering requires a master's degree in this or any other closely related field/subject. The following are the main and major eligibility conditions/qualifications for applying for a phd in computer science and engineering (CSE) to any Indian university:
A master's degree in CSE or any closely related subject/field from any duly recognized university or institution. The minimum marks at postgraduate in aggregate must be 55% for general category candidates or an equivalent grade. For candidates belonging to SC/ST/OBC (non-creamy layers)/Differently-abled categories, this minimum eligibility marking is 50%.
The minimum score to qualify the research entrance test (conducted by the proposed university) by a general category candidate will be 50%, and this for a candidate belonging to any of the reserved categories mentioned above, will be just 45%. The attached link may be viewed in this connection: https://www.ugc.ac.in/pdfnews/8303216_1st-Amendment---M.PhilPh.D.-Regulations.pdf
Good academic records, deep and lasting interest in research activities or any prior research experiences in related areas, will get extra benefits.
Again, successful candidates in UGC (JRF) Examinations/NET/SET/SELT etc., or M.Phil. holders in CSE, will be exempt from participating in the concerned research entrance test.
The syllabus of phd in computer science and engineering will be as per the present and future needs in this domain/industry and its betterment. In general, this covers the following domain-related areas and practical or research modules --- hardware and software development, electronic circuits and digital electronics, networking, research methodologies, data mining, Fuzzy logic, web engineering, simulation and modeling, artificial intelligence, and so on. The phd computer science sample papers along with the syllabus can easily and readily be found on the internet.
Career Options after PhD in Computer Science and Engineering
After successful completion of a rigorous and prolific PhD in CSE, the professionals will have a variety of job options to choose from, as per their specific interest and specialization. Their most likely recruitment areas will be Website Management, Hardware Manufacturing, Networking, Software Development, Cloud Computing, etc. And, the employment avenues will be private and government undertakings, academia, media, and scientific research institutes. The positions attainable after a phd in computer science and engineering are the following:
Professor
Hardware Engineer
Information Research Scientist
Software Developer
Website Developer
Network Engineer
Data Mining Engineer
Database Administrator
Application Scientist
PhD Admission 2021 - Courses Offered