PhD in Education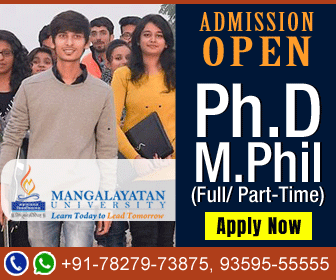 The Doctor of Philosophy (Ph.D.) in Education is a hugely popular doctoral course/program in India and countries worldwide. This is the highest academic degree in the discipline/sector of education, which generally takes 3-5 years. The general and ultimate objective of a PhD in education is to prepare future educators, education administrators, and education planners & advisors, both at school and university levels.
Here, it must be noted that the discipline of education is rather broad, and covers the specialization areas of Teacher Development and Leadership, Educational Administration and Management, Educational Policymaking and Leadership, Special Education, Literacy and Reading, Educational Management Information System, etc. However, regardless of specialization, candidates are first made acquainted with certain core and common things which include the foundations of literacy, cognition and sociocultural processes in learning and motivation, research methodology and statistics, gender issues in education, trends and issues in education, and so on.
This well-drafted webpage offers very useful pieces of information about the phd admission in education subject/discipline in India, the requirements for phd in education, career prospects after completing a doctorate ineducation, and some famous indian universities offering phd in education through the full-time and part-time modes.
PhD Admission 2021 in Education Subject (Full Time/Part Time)
For pursuing a rigorous PhD in education or any other discipline in India, the aspiring candidates have to qualify a research entrance test and then an interview. Based on the performance or marks obtained by a candidate in these both selection criteria, PhD admissions are made. These both research entrance exam for phd education and interview/viva voce are now conducted as per the PhD and MPhil Regulations of the concerned university and the provisions and regulations recommended by the UGC (Minimum Standards and Procedure for Award of Ph.D./M.Phil. Degrees) (1st Amendment) Regulations, 2018.Other relevant pieces of information about phd admission 2021 in the discipline of education are provided separately under the section just below.
The following are some hugely famous universities in India for full time and part time phd in education, at present:
University of Delhi, Delhi
Banaras Hindu University, Varanasi
Jamia Millia Islamia University, Delhi
Mangalayatan University, Aligarh
Amity University, Lucknow
Lovely Professional University, Jalandhar
Maharshi Dayanand University, Rohtak
Chaudhary Charan Singh University, Meerut
Jaipur National University, Jaipur
Eligibility/Qualification/Syllabus/Sample Papers for PhD in Education
For pursuing a PhD in education, the minimum eligibility requirement is a postgraduate degree in education or in any closely related subject/field. Hereunder, informed are the eligibility conditions and other qualifications for applying for a phd in education in Indian universities.
The following are the main eligibility requirements for a phd course in education in various universities located in entire India:
A master's degree from any recognized university or institute in education or any pertinent subject, such as M.A (Education), M.Ed., M.Phil. in Education, and so on. For general category candidates, the minimum aggregate marks at postgraduation must be 55% or an equivalent grade. And, for the candidates belonging to the reserved categories, this minimum eligibility marking is 50%.
Again, for the candidates relating to any of the reserved categories [SC/ST/OBC (non-creamy layers)/Differently-abled, etc.], the minimum qualifying marks should be 45% in the research entrance test conducted by the concerned university. For more info, please visit: https://www.ugc.ac.in/pdfnews/8303216_1st-Amendment---M.PhilPh.D.-Regulations.pdf
Impressive academic records and some prior experience in research studies, particularly in education related areas, will be added advantage.
Candidates who have passed any of the following eligibility exams --- UGC (JRF) Examinations; NET; SET; SELT; or have an M.Phil. degree in Education, are generally exempted from appearing in the research entrance test.
The syllabus for phd in education will be as per the various requirements in the education and teaching sector and its betterment. The main aims of the PhD program in education include the following --- providing a strong base in necessary knowledge and skills to the undergoing candidates in areas like teaching and educational development, educational planning & policy, educational administration & management, educational finance, implementation of educational reform programmes, etc.; enhancing their research capabilities; problem-solving skills; and various capacity building works and activities. Interested candidates can easily find the phd education sample papers (relating to the research entrance exams conducted in previous years), along with the syllabus on the internet.
Career Options after PhD in Education
After completing a robust PhD in Education, the candidates will have a variety of job and career options to select from, depending upon their respective area of specialization. The most prominent employment avenues for them are the following, in general
Private/government/international schools or universities
Educational Consultancies
Coaching Institutes/Centers
Publishing Houses/Media
Research and Development Agencies
Private Tuitions
Museums
And, Education Departments/Ministries of State and Central Governments.
And, the most common posts and designations attainable by the PhD holders in Education are the following --- teachers/principals, lecturers, assistant professors, educational consultants, journalists, content/copy writers, education coordinators/administrators, and so on.
PhD Admission 2021 - Courses Offered