PhD in Law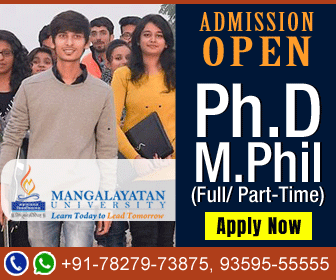 A magnificent PhD in Law prepares the legal professionals/candidates eligible for high to top positions in judiciary and in the legal division of academia, business and corporate world, media, government, NGOs and other social-service organizations. Thus, phd in law is certainly a very elegant course for building a bright and ever-prospering career in the legal sector. It may also be just mentioned that the PhD in Law is the highest-level academic course conducted by a university, with specializations in a wide range of legal streams (such as company & corporate law, intellectual property laws, labor & employment law, media & entertainment law, etc.). The various posts/positions attainable by a phd holder in law in the legal departments of the above-mentioned employment avenues, are mentioned under the lowest section on this webpage.
This diligently-written webpage offers the full-gamut of useful and enlightening information about admissions to the full time and part time phd courses in law at Indian universities. The required eligibility conditions, the phd admission procedure, and the career options after PhD in law are informed here in brief, to help the aspiring candidates belonging to India and abroad. It may also be just mentioned that, today PhD in law (in any legal stream/field) is a hugely popular doctoral-level courses in India and abroad.
PhD Admission 2021 in Law Subject (Full Time/Part Time)
The PhD Admission Procedure (applicable also to the phd admission 2021 to Indian universities) followed by most of the universities located in India, involves a research entrance exam for phd in law and then a personal interview/viva voce. These selection criteria are conducted by universities as per their respective rules and regulations related with PhD, and also according to the new UGC (Minimum Standards and Procedure for Award of Ph.D./M.Phil. Degrees) (1st Amendment) Regulations, 2018. The academic and other qualifications required for participating in the research entrance test conducted by the desired Indian university are mentioned under the section just below.
The following are some hugely popular indian universities offering phd in law through the full-time or/and part-time research studies,at present:
National Law School of India University (NLSIU), Bangalore
Shree Guru Gobind Singh Tricentenary (SGT) University, Gurugram
Alliance University, Bangalore (Bengaluru)
Mangalayatan University, Aligarh
Lovely Professional University (LPU), Jalandhar
Osmania University, Hyderabad
Indira Gandhi National Open University (IGNOU), Delhi
Dr. Ram Manohar Lohiya National Law University, Lucknow
The National Law Institute University, Bhopal
The National University of Advanced Legal Studies, Kochi
Eligibility/Qualification/Syllabus/Sample Papers for PhD in Law
For phd admission in law subject, a 3 to 5-year course, required generally by Indian universities is a master's degree in any segment of law or any relevant subject, along with the minimum eligibility marks mentioned below. In general, the following are the main eligibility conditions/qualifications for applying for a phd in law to any Indian university:
A robust master's degree in law (LL.M) or any closely-related subject pertaining to the humanities or social sciences. The minimum aggregate marks should be 55% for the general category candidates, or an equivalent degree and grading. For the candidates relating to any of the reserved categories, such as SC/ST/OBC (non-creamy layers)/Differently-abled, etc., this eligibility marking is just 50%. The master's degree must be obtained from any duly recognized university or institution located in India or abroad.
To qualify the research entrance test conducted by the proposed university, the minimum score to be obtained by the general category candidates and the candidates relating to the reserved categories is 50% and 45%, respectively. More info is available at: https://www.ugc.ac.in/pdfnews/8303216_1st-Amendment---M.PhilPh.D.-Regulations.pdf
Desirable also will be an impressive academic record, particularly during higher education up to postgraduation, and some prior experiences in research works related with the legal sector.
Passed candidates in UGC (JRF) Examinations/NET/SET/SELT etc., or M.Phil. holders in any legal stream, will be exempted from participating in the research test, and they will have to appear at the personal interview directly.
The syllabus of phd in law teaches the candidates all those things which are necessary for betterment of the existing legal procedures and services, and also for making innovations in the legal fields. In general, the syllabus for phd in law adopted by the majority of Indian universities, cover the following topics --- various legal streams and the existing procedures and practices there in; civil and criminal laws; constitutional law; common law doctrines; legal decision-making and skills; socio-economic offences; criminology; penology; public policy; research methodology; and topics related with the specialization stream selected for doctoral research. Along with the syllabus, the phd law sample paper may also be found readily on the internet.
PhD Admission in Law Courses for International or Foreign Students in India
The above-mentioned eligibility conditions are also applicable to international candidates desirous of pursuing a phd in law at any Indian university. However, there are changes in the course fee structure for them, and few changes in the documents required. These documents may differ depending upon the education system or degree grades which are followed in their native countries.
Career Options after PhD in Law
PhD holders in law can easily find rather progressive and well-paying employments in various private and government avenues. The most well-known among these employing avenues for them are the following --- private companies and organizations; private law firms and consultancies; government departments; State High Courts; Supreme Court; academia; media; NGOs and other social-service organizations. And, the posts/positions reachable to them will be the following depending upon their respective interest and specialization:
Qualified Lawyer
Legal researcher
Professor
Chartered Legal Executive
Company Secretary/Legal Secretary
Corporate Lawyer
Legal Compliance Specialist
Legal Analyst
Solicitor
Barrister
Judge
Notary
Oath Administrator
Legal Consultant
Law Reporter/Legal Publisher
PhD Admission 2021 - Courses Offered