PhD in Management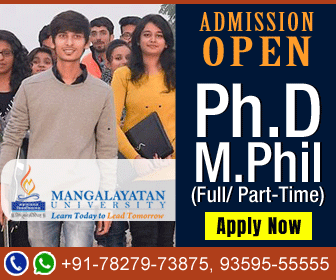 In today's highly competitive and intense world of businesses and professions, the PhD in Management/Business Management has emerged out as one of the most popular and highly preferred doctoral programs in India and countries worldwide.The Doctor of Philosophy (Ph.D.) in Management is the highest academic degree in the field of business administration and management granted by a higher education university. The ultimate aim of PhD in Management is to prepare the candidates for assuming an efficient, innovative, and leadership role as an independent business professional in their respective specialization fields. Today, a rigorous and prolific phd in management is available in a rather wide range of specialization fields, and a candidate can choose anyone of these fields as per his/her interest and ambition. The most prominent and popular of these specialization fields in India include the following ---Human Resources Management (HRM), Finance, Marketing, Production Management, Retail, Operations Management, Project Management, Hospitality Management, Sports Management, etc.
This webpage contains precious and very beneficial information about admissions to the full time and part time phd in management in Indian universities, the various career options available to the candidates after completion of a PhD in management, and the eligibility conditions for phd admission 2021 in the desired specialization fields of management.
PhD Admission 2021 in Management (Full Time/ Part Time)
For admissions to both the full-time and part-time phd programs in management in Indian universities, utilized are a research entrance test and then an interview for selecting the suitable candidates. Every such university (offering PhD programs in management) conducts these research entrance exam for phd management and interview as per its PhD Regulations and also as per the provisions and regulations provided in the new UGC (Minimum Standards and Procedure for Award of Ph.D./M.Phil. Degrees) (1st Amendment) Regulations, 2018.Information about the eligibility requirements and syllabus of phd in management, is provided separately under the section just below.
At present, the following are some most prestigious indian universities offering phd in management through full-time or/and part-time study modes:
University of Delhi, Faculty of Management Studies, New Delhi
Shailesh J. Mehta School of Management, Mumbai
Mangalayatan University, Aligarh
National Institute of Industrial Engineering, Mumbai
Management Development Institute, Gurgaon
Indian Institute of Foreign Trade, New Delhi
Christ University, Bangalore
Narsee Monjee Institute of Management Studies, Mumbai
Department of Management - [BITS], Pilani
Xavier Institute of Management, Bhubaneswar
Amity Business School, Noida
Birla Institute of Management Technology, Greater Noida
And, the Department of Management Studies of various IITs.
Eligibility/Qualification/Syllabus/Sample Papers for PhD in Management
This doctoral program in management generally takes 3-5 years depending upon the selected specialization area, and requires a postgraduation degree in business management or any closely related subject/field. In general, the following are the main and most significant eligibility conditions/qualifications for applying for a phd in management to any Indian university:
For phd admission in management subject, required will be a postgraduation degree in business management or any closely related subject/field with at least 55% marks in aggregate, obtained from any recognized university/institute. For candidates relating to the reserved categories, this eligibility requirement is 50%
The minimum qualifying score in the research entrance test is 50% for general category candidates. This score for the candidates belonging to any reserved categories [ST/SC/OBC (Non-Creamy Layers)/Differently-abled] is only 45%. For more info in this connection, please refer to: https://www.ugc.ac.in/pdfnews/8303216_1st-Amendment---M.PhilPh.D.-Regulations.pdf
Desirable will be an impressive academic record, and some experience in research works related with business management, for extra advantages.
Those candidates who have qualified any of the following exams -- UGC (JRF) Examinations/NET/SET/SELT etc., or have completed an M.Phil. in any management related subject, will be exempted from appearing in the concerned research entrance exam conducted by the proposed university.
The syllabus of phd in management encompasses all areas of business management, growth strategies, and critical leadership skills, which are necessary for tackling the existing as well as future business challenges and growing undauntedly amid intense business competitions at national and international levels. In general, the areas/topics covered by the syllabus are the following --- business accounting & advanced accounting; entrepreneurship and business development; project financing andbusiness finances; human resources management; banking and investment; business marketing; operations management; business information systems; global business management and marketing; organizational behavior and leadership; growth strategies; and enhancement of analytical and innovative research skills. The phd management sample papers pertaining to research entrance tests conducted by universities in previous years, may easily be found on the internet.
Career Options after PhD in Management
After completion of a PhD in management, the candidates/professionals can easily find high-level jobs in any of the following employment avenues, depending upon their respective areas of specialization in management --- in academia and business schools, business research institutions, private limited companies and corporate houses, banks and other financial institutions, import-export organizations, investment firms, non-profit organizations, media, etc. Again, based on their specialization areas, they may attain any of the following posts/positions in these employment avenues:
Professor or research faculty member
Business research associate
Business development manager
Departmental manager
Marketing manager
Assistant director/manager/CEO
Business/data analyst
Statistician
And, other positions in the middle-top management of a company/organization.
PhD Admission 2021 - Courses Offered