PhD in Mass Communication and Journalism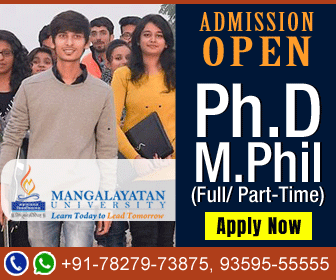 A rigorous and prolific PhD in Mass Communication and Journalism is immensely useful for building progressive and lavish careers in the fields of print and electronic media, academia, online media, radio and advertising, public relations, and so on. The full time and part time phd courses in mass communication and journalism offer theoretical and methodological knowledge, greater insights, practical inputs, and in-depth research in this professional sphere. This webpage offers precious information about the phd admission 2021 in this professional stream, including matters like the eligibilities, syllabus, the relevant PhD entrance exam, and the sample paper.
The careers after phd in journalism and mass communication are also informed separately under the lowest section on this webpage. It must be noted that, today almost all professional fields including the field of mass communication and journalism, have been rather competitive and hence hugely demanding, in order to withstand the competition and move ahead steadily. Therefore, qualified PhD holders in journalism & mass communication are imperatively required nowadays in India or abroad, to helm the affairs and lead in this highly significant sector of the media. Consequently, a large fraction of Indian universities now do conduct doctoral research courses in Journalism & Mass Communication, to meet the ever-growing requirement of such professionals in various firms, institutions, and companies associated with the sector of print and electronic media.
PhD Admission 2021 in Mass Communication and Journalism (Full Time/Part Time)
Today in India, the phd admission in mass communication & journalism is made based on the results obtained in the concerned PhD entrance test and at the personal interview, both being conducted by the selected university. This procedure is followed for admissions to both the full-time and part-time PhD programs. These research entrance exam for phd mass communication and the interview are conducted by the concerned university as per its PhD Regulations and according to the provisions given in the new UGC (Minimum Standards and Procedure for Award of Ph.D./M.Phil. Degrees) (1st Amendment) Regulations, 2018. Other relevant pieces of information related with phd admission to indian universities are provided under the section just below.
Though numerous universities of India now offer PhD programs in this stream, the following are some of the most famous and top indian universities offering phd in mass communication and journalism at present:
Aligarh Muslim University, Aligarh
Amity School of Communication (ASCO), Noida
Andhra University, Visakhapatnam
Mangalayatan University (MU), Aligarh
Apeejay Stya University (ASU), Gurugram
Central University of Orissa, Koraput (Odisha)
NIMS University, Jaipur
Sharda University, Greater Noida
Lovely Professional University (LPU), Jalandhar
University of Madras, Chennai
Eligibility/Qualification/Syllabus/Sample Papers for PhD in Mass Communication and Journalism
In general, the main eligibility conditions for phd admission in mass communication & journalism to Indian universities, are the following:
A rigorous Master's degree in Journalism & Mass Communication (J&MC) or other related subjects/fields or an equivalent degree to this, obtained from any duly recognized Indian or foreign university/institute. The aggregate marks at postgraduate must be 55% or more (for reserved categories, this should be at least 50%), or an equivalent grade.
Good and admirable academic records, particularly at graduation and postgraduation, and some experience (2 to 5 years) in the media industry/teaching/research in Mass Communication and Journalism.
Aspiring candidates who have passed any of the following exams --- UGC (JRF) Examinations/NET/SET/SELT etc., or have a robust M.Phil. degree in relevant subject, will not need to take on the research entrance test. They will have to tackle the final interview directly.
The minimum score to be obtained in the research entrance test is 50% for the general category candidates, for qualifying the test. This qualifying score for the candidates belonging to any of the reserved categories (SC/ST/OBC (non-creamy layers/Differently-abled, etc.) is just 45%. Please refer to: https://www.ugc.ac.in/pdfnews/8303216_1st-Amendment---M.PhilPh.D.-Regulations.pdf; for more information in this regard.
The syllabus of phd in mass communication & journalism covers all those topics which are necessary for competing, prospering, and leading in the concerned media. These topics in general include the following --- Theory of Culture and Media; History of MC & J; Contemporary Theory and Issues in Mass Communication & Journalism; Social, Legal, and Ethical Issues in MC & J; Law and Ethics in Telecommunications; Advertising Theory; Research Methodology; Specialized and Analytical Journalism; Mass Media Research; and Leadership in Mass Communication and Media. The syllabus for phd in mass communication & journalism can readily be found on the internet, along with the phd mass communication sample paper, to get useful information in advance.
Career Options after PhD in Mass Communication & Journalism
After completing one's PhD in Mass Communication & Journalism, a candidate can easily and quickly find a progressive job in any of the following employment avenues, depending upon his/her area of interest or specialization --- companies publishing newspapers and magazines, academia, firms associated with news and broadcasting, electronic media companies, advertising companies, TV and Films industries, public relations companies, and other firms related with mass media and online media. Depending on one's area of interest, the PhD holder can attain any of the following posts or designations in above segments of the media:
Lecturer/Professor
Assistant Editor/Editor
Journalist/Senior Journalist
Media Researcher
Advertising Executive
Marketing/PR Executive
Brand Promotion Executive
Freelance Journalist/Writer
And, Communications Manager
PhD Admission 2021 - Courses Offered