PhD in Pharmacy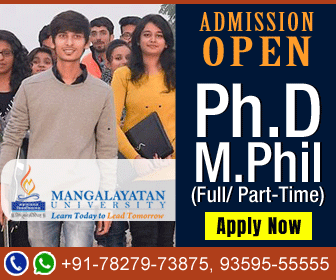 The Ph.D. in Pharmacy is the highest-level academic (doctoral) program in the field of pharmacy/pharmaceutics. Supported by intensive and comprehensive research work, this doctoral program in pharmacy paves the way for bright, prolific, and well-paid careers in a rather wide range of employment avenues. Information about these employment avenues and likely posts/positions attainable after a rigorous phd in pharmacy, is separately provided under the lowest section on this webpage.
This well-prepared webpage offers very enlightening and beneficial stock of information about phd admission in pharmacy subject in Indian universities, the phd admission 2021 procedure, various career options after PhD in Pharmacy, and other relevant matters.
Here, it may also be mentioned that Pharmacy is a health-based profession which links the health sciences with the chemical sciences. The sector of pharmacy or pharmaceuticals is associated with invention, testing, manufacturing, and safety of various pharmaceutical drugs to cure the well-known and new ailments and diseases. Refinement in existing treatment therapies & technologies and invention of new curing therapies and technologies are also associated with this broad sector of pharmaceutics.
PhD Admission 2021 in Pharmacy(Full Time/ Part Time)
The majority of Indian universities take help of a research entrance test and then a personal interview, for admissions to the full time and part time phd in pharmacy, which are conducted as per their respective rules and regulations. However, these research entrance exam for phd pharmacy and interview are also conducted by the universities in strict accordance with the provisions and regulations prescribed in the new UGC (Minimum Standards and Procedure for Award of Ph.D./M.Phil. Degrees) (1st Amendment) Regulations, 2018.Exclusive information about the main eligibility conditions and qualifications for applying for phd in pharma to Indian universities is provided under the section just below.
The following are the most famous and popular Indian universities offering phd in pharmacy through the full-time or/and part-time study modes at present:
Gandhi Institute of Technology and Management (GITAM), Visakhapatnam
B.R. Nahata college of pharmacy, Mandsaur
University of Mumbai, Mumbai
Mangalayatan University, Aligarh
Sardar Patel University, Gujarat
Rajiv Gandhi University of Health Sciences (RGUHS), Bengaluru
Kerala University of Health Sciences, Thrissur(Kerala)
Rajasthan University of Health Sciences (RUHS), Jaipur
Kurukshetra University, Kurukshetra (Haryana)
Lovely Professional University, Jalandhar
SRM University, Chennai
Jaipur National University, Jaipur
Eligibility/Qualification/Syllabus/Sample Papers for PhD in Pharmacy
For pursuing a doctoral program in pharmacy, required will be a master's degree in pharmacy or a postgraduate degree in any related fields. This phd in pharma generally takes 3-5 years in most of the Indian universities through the full-time study mode. In general, the following are the most significant eligibility conditions/qualifications for applying for a phd in pharmacy in the Indian universities:
Required will be a master's degree (M. Pharma, or M. Tech in Pharmacy) or an equivalent degree in pharmacy. M.Sc. or M. Tech in any other closely-related subjects/fields may also be allowed. The minimum aggregate score of 55% (50% for SC/ST/OBC/Differently-abled candidates) at the level of post-graduation or an equivalent grade will be essentially required.
Again, the minimum score to be obtained in the research entrance test for qualifying the same will be 50% for the candidates belonging to the general category. For the candidates relating to any of the reserved categories mentioned above, this qualifying score will be 45%. For details, please refer to: https://www.ugc.ac.in/pdfnews/8303216_1st-Amendment---M.PhilPh.D.-Regulations.pdf
The academic records of the candidate should be good and impressive, particularly during graduation and postgraduation, and desirable will be some experience in research works or activities in related fields.
Qualified candidates in any of the following exams -- UGC (JRF) Examinations/NET/SET/SELT etc., or M.Phil. holders in pharmacy or other related fields, will have to appear directly for the selection interview (i.e. they are made exempt from participating in the research entrance test).
The syllabus of phd in pharmacy covers all those areas and segments of Pharmaceutics which are necessary for meeting the above-mentioned purposes by the pharmacists. Broadly, the study areas encompassed by the syllabus are the following --- Bio Pharmaceutics and Advanced Pharmaceutics; Basic and Advanced Pharmacokinetics; Various segments of Pharmacology; Pharmaceutical Biotechnology; Fundamental Laboratory Methods; Biostatistics Experimental Design; Scientific Writing; Advanced Drug Delivery Systems; Regulatory affairs; etc. The phd pharmacy sample papers (based on the research entrance tests conducted by relevant Indian universities) may readily be found on the internet.
Career Options after PhD in Pharmacy
Successful completion of a PhD in Pharmacy opens doors to progressive and bright employment in a wide array of entities engaged in various related fields. The most prominent among these employment avenues are the following --- Pharmaceutical Companies; Colleges and Universities; Private and Government Hospitals; Biotechnology Companies; Defense Services; R&D Laboratories; Pharmaceutical Research Institutions; Medical Labs; Community Health Centers; Pharmacist Shops; Medical Content Writing; etc. Again, the posts/positions in these entities reachable by the PhD holders in pharmacy, will be the following
Assistant Manager in Pharmaceutical and Biotechnology Companies
Assistant Professor/Professor
Clinical Pharmacist
Pharmacy Coordinator
Pharmacy In-charge
Pharmacy Manager
Pharmaceutical Scientist
Community Pharmacist
Purchase Specialist
Counter Salesman
And, other positions in diverse departments of above-mentioned entities.
PhD Admission 2021 - Courses Offered