PhD in Nursing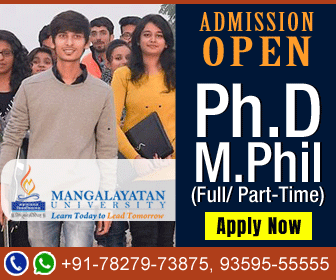 Nursing is one of the vital and most significant constituents of the healthcare sector in every country. Without necessary nursing services, no healthcare center or institution can work properly even for a day. It is the solid reason for the ever-growing demands for nursing professionals and staff, and easy availability of a variety of nursing-related courses and programs at varying hierarchic levels in every country, developing or well-developed, particularly in India, the second-most populous country with a huge healthcare industry. This webpage offers very enlightening and beneficial pieces of information about the phd admission in nursing subject into Indian universities, along with various relevant things of great importance.
The PhD (Doctor of Philosophy) in Nursing is the highest-level academic program in nursing field, the successful completion of which enables the candidates/nursing professionals for attaining and then leading top positions in the nursing department of high healthcare settings/institutions. A rigorous and prolific phd in nursing, which is a research-intensive course in the field, gives the candidate deep and high-level understanding of the nursing profession, administration and management of nursing services, providing qualitative and efficient nursing services, and devising regulations and policies related with clinical nursing practices and overall healthcare services. The career options available to the candidates after PhD in nursing are mentioned separately under the lowest section on this webpage.
PhD Admission 2021 in Nursing (Full Time/ Part Time)
As far as the phd admission 2021 in nursing or other disciplines in India is concerned, this is made by measuring the merit of the candidates in a research entrance test and then a personal interview, by most of the Indian universities. Both these research entrance exam for phd in nursing and the interview are conducted by a university as per its PhD regulations and also as per the provisions and regulations dictated by the new UGC (Minimum Standards and Procedure for Award of Ph.D./M.Phil. Degrees) (1st Amendment) Regulations, 2018. This admission procedure is applicable to the full time and part time phd in nursing at any proposed Indian university. The eligibility conditions for participating in the entrance test are stipulated under the section just below.
At present, the following are some very prestigious and popular indian universities offering phd in nursing through the full-time or/and part-time research study modes:
All India Institute of Medical Sciences - [AIIMS], New Delhi
Christian Medical College - [CMC], Vellore
Armed Forces Medical College - [AFMC], Pune
Mangalayatan University, Aligarh
Madras Medical College - [MMC], Chennai
Indira Gandhi National Open University - IGNOU, Delhi
Guru Gobind Singh Indraprastha University - [GGSIPU]
Noida International University - [NIU], Gautam Budh Nagar, Noida
Jawaharlal Institute of Post Graduate Medical Education and Research - [JIPMER], Pondicherry
Eligibility/Qualification/Syllabus/Sample Papers for PhD in Nursing
In general, a doctoral research course in nursing (PhD in Nursing) takes 3-5 years in the majority of Indian universities, and the most desirable academic qualification for pursuing this program is a master's degree in nursing or an equivalent degree or grading. The following are the main eligibility conditions/qualifications for applying for a phd in nursing to any Indian university:
A rigorous master's degree in nursing (M.Sc. in Nursing) or any closely-related field, obtained from any recognized university/institute, with 55%marks in aggregate or more, or an equivalent degree and grade. For candidates belonging to reserved categories, this minimum eligibility marking at postgraduation is 50%. It may also be noted that graduate candidates having a Diploma in GNM or DNP with practice/administrative experience up to five years, may be considered eligible for a PhD.
Candidates pertaining to any reserved categories such as SC/ST/OBC (non-creamy layers)/Differently-abled candidates) require to score only 45% in the research entrance test conducted by the proposed university to qualify the same; this score for the general category candidates is 50%. For more info, please refer to: https://www.ugc.ac.in/pdfnews/8303216_1st-Amendment---M.PhilPh.D.-Regulations.pdf
Good academic records at graduate and postgraduate levels, few years of clinical/administrative/teaching experience, or works of research related with nursing field in previous years, will be extra advantages.
Those candidates who have qualifies any of the following nation-level exams -- UGC (JRF) Examinations/NET/SET/SELT etc., or have an M.Phil. in nursing (or any closely-related field), are made exempt from appearing in the entrance test; they will have to face the selection interview directly.
The syllabus of phd in nursing will be commensurate with the various high-level positions (mentioned under the lowest section) to be reachable by the scholars in nursing. Broadly, the areas covered by this syllabus are the following --- nursing informatics, nursing science and theories, epistemology, research methodologies and applied statistics, administration & management of nursing and clinical services, nursing leadership, etc. The syllabus along with the phd nursing sample paper can readily and easily be found on the internet.
PhD Admission in Nursing for International or Foreign Students in India
The PhD admission procedure and the required eligibilities stipulated above, also hold good for foreign or international candidates. Only few documents (including certificates) required may vary or differ depending upon the education system or educational grading followed in the concerned country.Again, the application fee, yearly course fee, and other fees chargeable during the PhD program in nursing, will be different. However, the foreign students shall not face any discriminations on any grounds at any Indian university.
Difference Between a DNP and a PhD in Nursing
Broadly, the Doctor of Nursing Practice (DNP) is mainly and primarily a degree based on clinical practices and experiences; while a PhD (Doctor of Philosophy) in nursing is ultimately a research-based top academic degree in the areas of nursing profession, clinical management, and nursing policies related with public health. The main and significant points of the difference between a DNP and a PhD in nursing are provided below:
For admission to the DNP program, a bachelor's degree in nursing is generally required; while for pursuing the PhD in nursing, required will be a master's degree in nursing [M.Sc. (Nursing) or MSN].
The DNP is mainly a degree based on nursing/clinical practices, and during this program (and after completion of this) conclusions and evidences derived after researches in nursing are brought into practices. On the other hand, the PhD in nursing focuses mainly on discovering or inventing creative things for betterment in nursing profession and services, more efficient and impeccable management of nursing services, and devising better policies related with nursing and health policies and clinical practices.
The final project in DNP is preparation and presentation of clinical papers based on practices and experiences. On the other hand, the final project of a PhD program in nursing is preparation and presentation of an original and in-depth thesis for betterment in nursing services and nursing profession.
The DNP holders are employable to the posts of team leaders in nursing practices in nursing departments/hospitals, teachers for practice-based nursing programs in colleges and universities, and administrators/managers of nursing services in various healthcare settings. On the other hand, PhD holders in nursing are reachable to the positions of senior nursing instructor, clinical nursing specialist, nursing scientist/researcher, director of nursing research, member of nursing policy makers.
Career Options after PhD in Nursing
After completing this highest-level research-based course in nursing, the candidates/nursing professionals are eligible for finding high, bright, and well-paying employments in a variety of healthcare settings. The most prominent among these employment avenues are the following --- Private and Government Hospitals; Medical Colleges and Universities; Nursing Homes; Clinics and Diagnostic Centers; Research Institutes; Defense Services; Community Healthcare Centers; Medical Writings; and Social Service Agencies. And, the most commonly attainable posts/positions by the PhD holders in nursing will be the following
Clinical Nurse Specialist
Assistant/Chief Nursing Officer
Manager Nursing
Nursing Lab Assistant/Leader
Nursing Instructor/Supervisor
Critical Care Nurse
Nursing Surgical Services Director
Travelling Nurse
PhD Admission 2021 - Courses Offered